WARRANT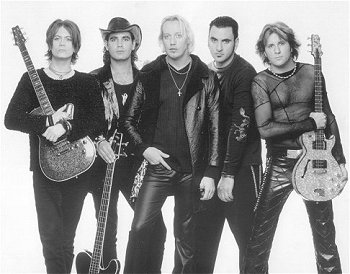 Warrant - the band's name is synonymous with good times rock. A band that tore down the walls that existed between themselves and their fans, with seemingly no airs whatsoever. Warrant is, however, also a band that got the short end of the stick, being blamed (along with a few other 80's bands) for the death of arena rock, pop metal whatever you want to call it. They were named a hair band, and derided for ripping of the sound of Def Leppard & Bon Jovi. When grunge broke through in a big way around 1991/92, Warrant and their like were ruthlessly showed away from the limelight. Well, they are still around, touring and making records. WHERE ARE THE ALL ALTERNATIVE hacks? Except for Pearl Jam (and in some form Alice In Chains), all the grunge/alternative bands are dead. Good riddance, it's time for rock to roll into the airwaves again. And dare I say it, I hope that Warrant will play a big part in it.
| | |
| --- | --- |
| WARRANT AT THE PEAK OF THEIR CAREER - 1991 | Let's start around 1986. By now the individuals who would create Warrant's debut album had all joined up to form the band, after playing in various other groups. They are Jani Lane (vocals), Jerry Dixon (bass), Eric Turner (guitars), Steven Sweet (drums) and Joey Allen (guitars). Their live performances make them one of the hottest bands in the LA circuit and they recieved many offers for record contracts. Their first ever recording is the song "Game of War" intended for the soundtrack of the film 'Bill & Ted's Excellent Adventure', it was not included in the album released however. Columbia Records signed the band and they entered the studios with producer Beau Hill (Ratt, Winger fame). |
'Dirty, Rotten, Filthy, Stinky, Rich' (DRFSR) came out in Feb. 1989, with all songs written by Jani and would evnrtually go double platinum. The ballad "Heaven" (their most successful song to date) went to #2 on the US Billboard charts. Other great songs from the album are "In The Sticks", "Sometimes She Cries" & "Down Boys" (gee someone outta setup a website in that name, eh Kimmie? ;) ) The band go on tour supporting the likes of Aerosmith, Motley Crue, Poison & Paul Stanley plus their own headlining tour in clubs and smaller arenas, eventually playing over 280 dates in a year and a half. They also perform at the American Music Awards, where they had recieved a nomination for favorite new rock band. After a brief rest they join Beau Hill once again to record the followup to DRFSR.
'Cherry Pie' came out in September 1990 and outsold the debut. Featuring the hit singles "Cherry Pie", "I Saw Red" and "Uncle Tom's Cabin" ( a change in subject matter for the band). The video for "Cherry Pie" was one of the most requested by Mtv viewers and two years later it made the channel's worst videos ever list (a case of Mtv turning against rock bands during the alternative boom.) The model who appears in the video, Bobbi Brown, would later marry Jani and have a daughter with him before the two divorced. The album would peak at #7, and Warrant would go on a 200 date tour, also opening for Poison until the two bands fell out on a disagreement.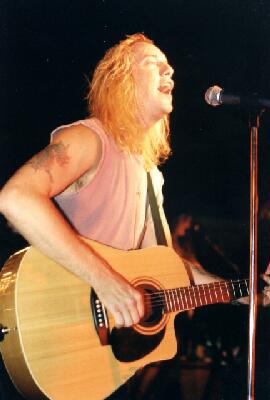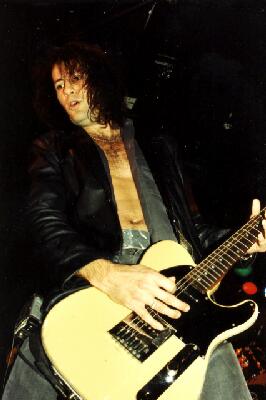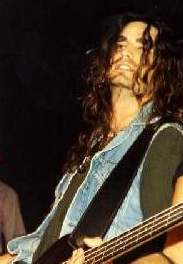 JANI LANE, ERIC TURNER & JERRY DIXON - THE MAINSTAYS OF WARRANT
| | |
| --- | --- |
| FORMER WARRANT GUITARIST JOEY ALLEN | "I Saw Red" peaked at #13 on the Billboard charts and "Cherry Pie" was #15. The band decided to go for a change of sound while working on songs for the new album, and moved to Florida to record 'Dog Eat Dog' at Tampa's Morrisound Studios. In August of 1992 'Dog Eat Dog' was released by Columbia Records, and sold gold, unlike the double platinum selling first two records, and with a change of image (out went the spandex and in came black leather) complimenting the darker more serious lyrics. The best songs on the album are "Hole In My Wall", "Bitter Pill" (my fav. Warrant song - really great), "Andy Warhol Was Right" & "All My Bridges Are Burning". They toured Europe with Megadeth and Iron Maiden and return to the US to tour with Lynch Mob on the 'Hair Of The Dog' tour. David White joins the band on keyboards for the US part of the tour. 1993 generally is when problems arised in the metal camps. Same goes for Warrant - their record label Columbia dropped them, just like many other hard rock bands were being dropped by other labels. Grunge set in and Seattle was the place to be. |
| | |
| --- | --- |
| Also in 1993, Jani left the band for a while, in order to pursue a solo career with more emphasis on his songwriting and less on the more heavier style that the band was now into. Then their long-time manager Tom Hulett died, which was a big blow to them personally and professionally. Jani Lane moved with his family to Tarzana, California away from the LA area and worked on the songs for his solo album. The rest of the guys try out a couple of singers, but nothing works out as a permanent solution. By the end of the year, Jani and his wife divorced, Jerry Dixon had a son and Warrant got back together again. They booked their own club tour just to keep playing and sell out every venue. By May of 1994, guitarist Joey Allen leaves Warrant and also gets a divorce from his wife. Two months later drummer Steven and the band split in a mutual decision. He has since moved to Encino and lives with his brother, occasionally playing drums and singing. Guitarist Rick Steir (pictured below) and drummer James Kottak (both former Kingdom Come members) join Warrant, who sign onto CMC International Records. | FORMER DRUMMER STEVEN SWEET |
| | |
| --- | --- |
| | Dave White joines up as an official member of the band and work starts on the new album. For the first time, everyone contributes to the lyrics and music, with some influence of grunge and alternative sneaking in. They enter One to One studios to record 'Ultraphobic' which is produced by Beau Hill, back with the band again. The album is finished in 5 weeks and released in early 1995. The new tour begins in Dallas, Texas and then moves on to Japan, Europe and Australia. In August James Kottak, who is now a member of the legendry German rock band The Scorpions, leaves Warrant and the former Beggars & Thieves drummer Bobby Borg joins up on the suggestion of Kottak. Meanwhile ex-record label Columbia, released a greatest hits album without involving the band. This album is not considered an official release by either the band or their loyal fans. In early 1996, Danny Wagner replaces Dave on keyboards and backing vocals. Eric Turner is the next Warrant member to get married and after his honeymoon, work begins on the next album to be called 'Belly To Belly'. No videos are released from the album and the band tours with Vince Neil and Slaughter, playing in front of 8,000 to 10,000 every night. Jani marries again and later the band steps out on another tour with L.A. Guns and Bang Tango. |
| | |
| --- | --- |
| Joey Allen, meanwhile graduated from college in 1997 and now works for a software company in Anaheim Hills, California. He earns a good living, bought himself a recording studio and is working on a solo project. He also recorded a version of "Twist & Shout" alongwith Poison guitarist C.C.Deville, for a Rod Stewart tribute album. Drummer Bobby Borg left Warrant that year to pursue other interests. He has written six drumming instructional books and is studying in UCLA. Vik Foxx temporarily plays drums until the end of the mid-west tour, which ends in Las Vegas on New Year's Eve. In April 1998 Jabberwocky (Jani Lane, Rick, Jeff Klaven and Bruce Robinson) plays a few dates. | DRUMMER MIKE FASANO |
Warrant leaves the CMC label and tours with Slaughter, L.A.Guns, Firehouse & Quite Riot on the Rock Never Stops tour. Rick and Danny left the band in 2000 and Mike Fasano joins up as the newest drummer. Kerri, who had joined up as the touring guitarist, left to join Slash's Snakepit and has been replace by Billy Morris. Billy, who also plays in Kidd Wicked, is from Cleveland and is a long time friend and fan of Warrant. A new album with this lineup is expected soon. The great thing about Warrant that despite members leaving frequently, the band still have the drive & passion to continue touring and making songs that their fans adore.
| | |
| --- | --- |
| WARRANT - 1997 | BILLY MORRIS |
---
All pics & band biography taken and compiled from WARRANTWEB.NET & DOWNBOYS.COM. Thanks a heap to KIMMIE, webmistress of DOWNBOYS.COM for permision to use pics and bio details from her site - (U R THE BEST)