VAN HALEN



As a band and as individuals, Van Halen are in a class all by themselves. Alex Van Halen, one of best drummers in the world - Michael Anthony, thumps the living daylights of his bass - and Eddie Van Halen is among a handful of guitarists who's disciples have thousands of worshippers of their own. He revolutionised rock guitar playing, just when the music world needed someone to do just that. And the band have had three great vocalists sing for them. David Lee Roth, Sammy Hagar & Gary Cherone. Add all of this together and you get a band that has sold millions of records, have had four #1 albums, numerous hit singles, videos, awards, toured the earth enough times to write travel guides about every continent - they have done it all.
| | |
| --- | --- |
| ALEX VAN HALEN | Alex and Edward Van Halen were born in Amsterdam and Nijmegen (both in Holland) respectively. Theirs was a family in which all members tried their hands at some musical instrument or the other. Around 1962, the Van Halen family left Holland to come and live in the US. They moved to Pasadena, California after first arriving in New York City. Both the brothers were classically trained on the piano at a young age. At first Al played guitar and Eddie got a drum set, which he planeed to pay with money he earned from a paper route. While his younger brother was out delivering newspapers, Al would play on the drums and eventually got so good at it that finally he stuck to it and Eddie shifted to the guitar. The Van Halen boys played in numerous cover bands in their hometown and a few times they would rent stage equipment from singer and Indiana native David Lee Roth. At first Eddie used to sing as well as play guitar, but he much prefered to do just the later. So they asked Roth to join the band and the name Mammoth was coined. Michael Anthony moved to California from Chicago and played trumpet, guitar and before settlling on the bass. He sang and played for a local band called Snake, who played the same circuit as Mammoth and was invited to join the band. |
| | | |
| --- | --- | --- |
| MICHAEL ANTHONY | The foursome honed their craft by playing anywhere and evrywhere possible, and earning a reputation as the hottest unsigned band on the block in the process. In 1975 they found out that there was another band with the name Mammoth and so they decided to change their name to Van Halen (after going through many others). They were signed onto Warner Brothers in '78 and released their debut album 'Van Halen 1', which would sell over 10 million copies and set the standard for all hard rock bands that have since come up. Alex and Mike are one of the best drum-bass duo the rock world has ever seen, laying the foundation on which Van Halen classic songs are built. But it was mostly Roth and Eddie who were the main attractions - for two different reasons. For every guitar crazy guy that came to see Eddie play those patented runs on the fret board there was a girl who came to see David strut his stuff on stage. | DAVID LEE ROTH |
With songs like "Feel Your Love Tonight", "Running With The Devil", "Jamie's Crying" & a cover of the Kinks' "You Really Got Me Now" they rocked every crowd that came to see them. Also in the album was the short guitar instrumental (well, more like a burst of sonic energy and controlled mayhem, 6-string wizardry masquerading as an instrumental) called "Eruption" (how appropriate) that still stunts the listener as it did all those years ago. It also was the first example of just why Eddie became the guitar god that he is.
| | |
| --- | --- |
| 'Van Halen II' was released in 1979 and had songs like "Dance The Night Away" and "Beautiful Girls" which were a bit more subdued that the first album. 'Women And Children First', released in 1980 was also experimental with emphasis on the keyboards played by Eddie, while their fourth album 'Fair Warning' was more of a guitar album. And then the 1982 album 'Diver Down', which did not go well with most diehard Van Halen fans, contained 5 cover songs out of 12 overall. It gave them hits like "Dancing In The Street" and "Pretty Woman". All these albums were multi-platinum sellers and Van Halen also went on to make history as the highest paid band (for one show). But even though the band was very popular and their concerts were sold out, something was missing from their arsenal - an album which could match the intensity and success of their debut. | EDDIE VAN HALEN |
| | |
| --- | --- |
| | And that's what the world got with '1984', the album that established the legendry position that Van Halen enjoy. With hits like "Panama", "I'll Wait", "Hot For Teacher" and their first #1 single "Jump" (the mix of amazing keyboard work complimented by a great guitar solo has made it a timeless classic) on heavy rotation on radio and Mtv, you couldn't escape from the band. All fans of music were drawn to Van Halen because of these songs. A world tour followed, that rocked every city in it's wake. After the tour, David Lee Roth released a solo EP, titled 'Crazy From The Heat'. He was delighted to see the favourable response cover songs like "California Girls" and "Just A Giggalo" recieved. Eddie himself had guested on other artists' albums, noteably his very famous guitar solo on Michael Jackson's 1983 monster hit single "Beat It" (Eddie's guitar actually gave that song it's greatness, but he never asked to get paid for it and was not paid for it either. He was just glad to do something different). Anyway, bitter differences between Roth and the others in Van Halen soon led to a parting of ways and in 1985 the band were looking for a new singer. |
| | |
| --- | --- |
| Sammy Hagar had built his reputation as a great frontman with his stint in 70's rock band Montrose and had also scored a hit with "I Can't Drive 55" from his album 'Voice Of America'. Sammy was recommende to Eddie by someone and the two arranged for a meeting with the band. Needless to say, they clicked both musically and personally. The new Van Halen released their first album 5150 in 1986. It became their first #1 album and was an indication of how the fans took the new lineup to their hearts. Hagar revitalised the band and brought with him a far greater vocal range than Roth and the contribution of a fresh, radio-friendly sound. '5150'(named after the Los Angeles police code for the criminally insane) had monster hits like "Dreams"(Van Halen's most played song alon with "Jump"), "Love Walks In", "Best Of Both Worlds" & "Why Can't This Be Love" alonwith other concert favorites "Summer Nights" and "5150". The band went on a massive world tour, where Sammy proved that although he was no David Lee Roth in the showmanship department, he was still a formidable fromtman, with his stage antics and energetic singing. | VAN HALEN - 1986 |
The more pop sounding 'OU812' (oh, you ate one too) followed in 1988 and also went to #1. The album had hits like "When It's Love", "Feels So Good" & the extremely cool & catchy "Finish What Ya Started" with its lyrics about unfullfilled sex. By now Hagar was established at the vocalist helm of one of the biggest rock bands in the world. Van Halen rocked the world at concert events. After a 3 year break between albums, 'For Unlawful Carnal Knowlegde' (F.U.C.K. get it? :)) was unleashed into the world. Probably their best album ever, it blazed it's way to the #1 spot on the US Billboard charts and spawned hit singles like "Runaround", "Pound Cake", "Dream Another Dream", "Top Of The World" & "Right Now". Another feather in the Van Halen cap, "Right Now" with it's intelligent lyrics & music video to match, won the best group video at the Mtv Awards in 1992.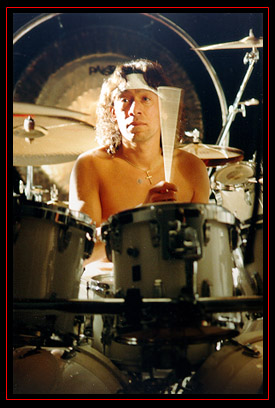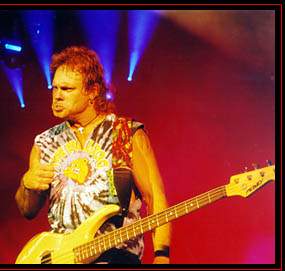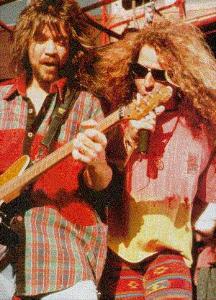 By now Van Halen (with Sammy as singer) had logged considerable miles as a touring band throughout the US, Canada, Australia, the UK, Europe, Asia as well as South America. And also having one heck of a live sound, the release of a live album was imminent. So after going through numerous recordings of their concerts and picking and chosing the best, 'Right Here, Right Now' was released as a double CD. It contained a couple of covers and a few older songs, but concentrated on more Sammy era Van Halen songs. 'Right Here, Right Now' is one of the greatest and most successful live albums ever, and the band took a well deserved rest for two years.
| | |
| --- | --- |
| EDDIE & SAMMY | In 1994, their manager Ed Leffler died and for a while Eddie was managing the band. He found it a big burden and in between a meeting with Tim Collins (manager of Aerosmith), he left to go home, took his electric shaver and shorn his long hair off, as the pressure was getting to him. Eddie says that the managing part was beyond him, as he was getting hundreds of calls a day, people asking about promotions, recordings, concerts, appearances on tv and radio, etc. So when 'Balance' was released in 1995, the rock world was shocked to see Ed Van Halen with short hair and a french beard to boot! It was a big change in looks. But the band sounded as good as ever. "Amsterdam", "Not Enough", "Don't Tell Me (What Love Can Do)" & "Can't Stop Loving You" were the singles released and did well on the charts. The album itself debuted at the #1 spot on the Billboard charts. |
| | |
| --- | --- |
| But after their tour ended, trouble started brewing in the Van Halen camps. The band were working on their greatest hits album, when Eddie and Sammy apparently had a war of words and in the end Hagar was fired or he left (depending on whose version of the story you believe). The reasons are not really that clear either. The remaining members of Van Halen got together with David to record two songs, "Me Wise Magic" & "Can't Get This Stuff No More" off their greatest hits album, but he was just temporarily back. Van Halen recruited Boston native Gary Cherone, whose band Extreme had split up recently. Extreme, with their great musicians, intelligent, politically aware lyrics and catchy tunes were a popular band, so it was accepted that some of their influence would creep into the new songs from Van Halen. But it didn't work. | GARY CHERONE |
No matter how much I like Gary and his singing, it was certain that his style did not mix well with the Van Halen sound. The new album, '3', sold less than any other Van Halen albums since '1984' onwards. '3' did have good songs like the energetic "Without You" and "Once"plus it was also a guitar album, i.e Eddie's guitar raged all over the records, but overall, the album lacked the brillance of earlier efforts, it was a weak album. Eddie had also undergone consultation under a Sikh lady therapist and healer, and the songs were heavily influenced by her sessions on life. The following tour was also not upto standards as the reception from the crowds to the new songs was not always positive, though they did have some monster concerts in certain places.
| | |
| --- | --- |
| | And at the end of it all, Gary and Van Halen decided to part ways. It was a mutual and friendly split, thankfully unlike the ones with David Lee Roth and Sammy. Besides Gary is one of the nicest guys in the music industry and it is not possible to for them to treat him badly. Gary is now looking for future projects, working with his former mate in Extreme, Nuno Bettencourt. Van Halen are in the process of creating a new album, although they still have not named a new singer. Speculations about who the new vocalist may be has been running wild on the internet and music circles, some even suggesting that Roth (who had fallen on tough times since his smash 1987 solo hit album 'Skyscraper') would now sing for the band. Whoever the singer is, an album should make it's way into stores in late 2001. |
---
All pics taken from various Van Halen sites on the internet, including the official website - VAN-HALEN.COM. Band history complied from various articles, interviews and biographies of Van Halen taken from website articles and magazines, as well as from VAN-HALEN.COM.