SHANNON HOON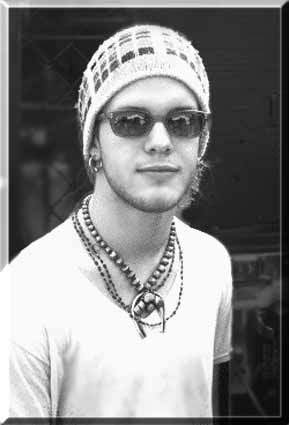 &
BLIND MELON
One of the best singers to come out of the 1990's, Illinois native Hoon was the singer for the alternative band Blind Melon. Sadly, he died of a cocaine overdose in the back of the band's tour bus while in New Orleans. The band was on tour in support of their second album "Soup" and were due to perform later that day.
Shannon hailed from Lafayette, Illinois and was an outstanding athlete in school. During his teens his attention turned from wrestling and tracks events to singing. He said in an interview that he had spent years doing what his parenst and others expected him to do and singing made him feel good and made him want to search for his won identity. However he would also soon fall into the lifestyle that came with the mantle of rock music, with drugs and the rest. He soon left his hometown for Los Angeles in order to persue his dreams. There he hooked up with guitarist Roger Stevens and bassist Brad Smith who were from West Point, Mississippi. They bonded over their dislike of the L.A. glam rock scene of the '80s and early '90s. With the addition of guitarist Christopher Thorn from Pennsylvania and drummer Glenn Graham, Blind Melon was born. On the strength of a four-song demo Capitol records signed them on a contract. The band moved to Chapel Hill, North Carolina to finish the songs needed to make an entire album. Armed with some great songs, Blind Melon set out to play clubs and small venues, creating a grass root level fanbase. Around this time, Hoon was invited by fellow Lafayette native, Axl Rose, to sing back up and appear in the video for "Don't Cry". Hoon was dubbed the "mysterious man in flannel" and the video gave him and his band a little fame even before they had released a song.
Their debut album "Blind Melon" was released in September of 1992 and did not intially create huge waves and the band went on tour with Big Audio Dynamite II, Live and Public Image Ltd as part of the MTV 120 Minutes tour package. The video for "Dear Ole Dad" got some airplay on 120 Minutes. And then ---boom, fame hit in a big way. The single "No Rain" was released and became a huge hit and the video got heavy rotation on Mtv. The video featured a young girl in a bee outfit, the song had an uplifting feel to it. And Hoon sings the lyrics in an almost apolegetic way, with eternal hope as an underlying theme. "Change", "Tonnes Of Home & "Sleepy House" were also released as singles and the alternative world embraced the band. "Blind Melon" went over 3 times platinum and the band toured constantly, as either headliners or opening for the likes of Neil Young, Soundgarden & The Rolling Stones.
They put out "Soup" as the second album, with the singles "Galaxie" and "Toes Across The Floor" followed by more touring. However, sales of the new album did not reach anywhere near the sales of the debut, and was deemed a relative failure. This could be a direct result of fans of the catch single "No Rain", coming to see the band live and discovering Blind Melon's penchant for drawn-out jams onstage - of the Pink Floyd, Grateful Dead kind. The hard core fans stuck by them , the rest left like rats in a sinking ship. By this time Hoon had been in and out of rehab, in an effort to kill his addiction to drugs and he sincerly tried, because in July 1995, his girlfriend of 10 years gave birth to a girl and he wanted to get clean for her. Unfortunately Hoon's daughter, named Nico Blue, will never get to know him. The rest of the band were devastated and intially split from each other as they tried to come to terms with their bandmate and friend's death. A few months later Thorn, Smith, Graham & Stevens got together and released a memorial to Hoon in the form of the third and last Blind Melon album. The album, titled "Nico", was complied of unreleased material, cover versions of John Lennon's "John Sinclair" & Steppenwolf's "Pusher' and a painful, slowed down version of "No Rain", which bears very little resemblence to the original. Ironically, the album was hailed as Blind Melon's best effort by the media. Part of the proceeds from "Nico" went to MAP, an organisation that helps musicians with drug problems to get clean.
The surviving memebers at first planned to find another singer and continue to create music and tour - but under a different name. Later in 1999, however they decided not to do so and split up. Drummer Glen Graham, settled in Chapel Hill and began writing songs and working on other projects. Guitarist Stevens collaborated with singer Rene Lopez on songs for an album. Thorn and Smith moved their base to Seattle, Washington and joined forces with former Pearl Jam drummer Dave Krusen and singer Chris Shin to form the band Unified Theory with a self titled debut album.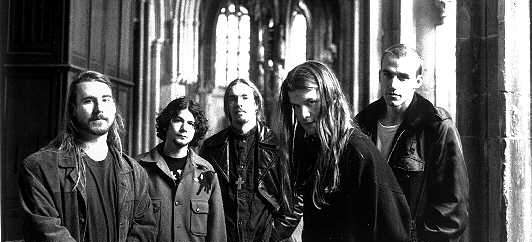 BLIND MELON
(L to R: Glen Graham, Christopher Thorn, Brad Smith, Shannon Hoon & Rogers Stevens)