STEVE MORSE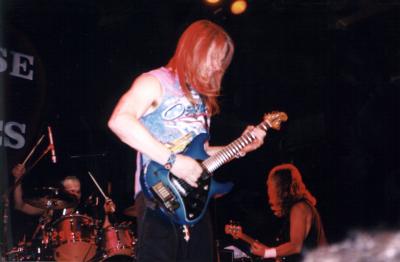 Just stating that Steve Morse is one of the most highly respected and influential guitarists in the history of guitar playing is not enough. The five times winner of the 'BEST OVERALL GUITARIST' award in the poll conducted by premier guitar magazine Guitar Player, had to have his name disqualified from further competitions in order for other players to get a chance at winning it! That's impressive. Morse was born in Hamilton, Ohio and raised in the city of Detroit, Michigan, he began studying guitar at a local music shop. While in the 10th grade at school in Augusta, Georgia, he met bass player Andy West. Together they enrolled at the University of Miami, and Steve almost chose Electrical Engineering over a Musical major! Anyway, he studied studio music, jazz and classical guitar and in their free time, the duo would jam with other musicians in the campus - musicians like drumming legend Rod Morgenstein, the late bass player Jaco Pastorius and jazz guitar maestro Pat Metheny. Steve formed the The Dixie Dregs, a band that included West and Morgenstein and keyboardist T Lavitz and violinist Allen Sloan would go on to be the definitive rock instrumental group, with each member a virtuoso in his instrument of choice.
| | |
| --- | --- |
| | They signed onto Capricon records and released 'The Great Spectacular' in 1975. 'Freefall', 'What If', "The Night of The Living Dregs' (recorded live at the Jazz festival in Montreaux) followed in quick succession. It was needless to say that their audiences would mostly be fellow musicians and students of music, who would sit with their mouths wide open in awe at the sheer talent and musicality of the guys on stage. Steve had made a name for himself as a great guitar player and several artists asked him to play on their albums. He played on "When It Comes Down To It" on Liza Minellie's 'Tropical Nights' album (1977) and 8 songs on Rob Casells 1979 release 'Evening Pastoral'. By then the Dixie Dregs had become just The Dregs and put out 'Dregs of The Earth' in 1980 and a year later the excellent 'Unsung Heroes' a year later. However, the band was not as commercially succeeful as they deserved to be and some members pursued other means to sustain themselves. Allen Sloan became an anesthiologist and Andy West went in the direction of computers and creation of software. Rod Morgenstein would join up as a member of the succesful Winger and sell many records. Lavitz contributed his playing to several artsist and to his own solo work. The band broke up after their 1982 album 'Industry Standard'. Steve recorded all songs on Casells's 1983 album 'Kamikaze Christian' and put out his first two albums as The Steve Morse band - 1984's 'The Introduction' & 'Stand Up' the next year. A couple od compilation, best of Dixie Dregs albums were also released around this time. |
| | |
| --- | --- |
| In 1986 he joined progressive supergroup Kansas, who were impressed by the now 5 time winner of the 'Best Overall Guitarist' award in the annual readers poll in Guitar Player Magazine. Steve and Kansas recorded two studio and a live album together. 'Power' came out in 1986 (Steve co-writing all the songs) and contained two all time favorite Kansas songs - "All I Wanted" & "Can't Cry Anymore" - (This was my introduction to Morse...I had heard these songs on a friend's compilation tape in 1988). 'In The Spirit of Things' came out in 1988 and the live album 'Live At the Tower Theatre in Philadelphia' was recorded in 1989. Steve left Kansas soon after. He had also recorded the albums 'Surveillance' with Triumph (1987), 'Southern By The Grace of God - Tribute Tour '87' with Lynyrd Skynrd and 'Love Your Man' with The Rossington Band as well as produce a Rob Cassels album. | |
| | |
| --- | --- |
| | After the Kansas tour ended, he felt that he had to make a decision. Steve says that at that particluar time, things were not going very well for him in economically. Steve has a love for planes and had a pilot's license - so he cut his hair short and became a commercial airline pilot. This lasted for only 6 months. Then he came back with a bang. Steve 's solo album 'High Tension Wires' was released, with great tracks like opener "Ghostwind", "Highland Wedding" & "Tumeni Notes". 1990 saw Steve score for a movie sountrack for the first time in his life. "Cut To The Chase" (which would also appear on 'Souther Steel') and remixes of two songs from 'The Introduction', namely "Cruise Missle" & "General Lee" (the sountrack remixes were called "Westerm Chase" & "Downhill Run"), appeared in the 1990 film 'Ski Patrol'. |
Then it was back to The Steve Morse Band - the album 'Southern Steel' was released, to the delight of masses of guitar crazy fans around the world, followed by 'Coast to Coast' a year later. 1992 also saw Steve record Jeff Watson's 'Lone Ranger' album and contribute to 'CPR' - the album by the trio Coven, Pitrellie, O'Reilly. He also plays on bass guiatr wizard Michael Manring's 1994 stunning album, 'Thonk', and also contributed to tribute albums of two of his favorite bands - Morse plays "Mood for a Day" & "The Clap" for 'Tales from Yesterday' a tribute to British progressive legends Yes and "Red Barchetta" & "La Villa Strangiato" for 'Working Man', a tribute to Canadian progressive kings Rush. Then came the news that stunned the music world. Deep Purple, the legend's of rock, needed a guitar player who could replace Ritchie Blackmore. The moody British guitarist, Blackmore had left Purple in the middle of a tour, and at that time Joe Satriani temporarily filled in the spot, jsut until the Japanese and Mexican legs of the tour could be completed. So Deep Purple approached Morse via his manager, and at what was first a tentative agreement has become a highly exciting and enjoyable experience for both the band members and fans alike.
| | |
| --- | --- |
| | Steve played a few gigs around the world with Deep Purple in order for the band and fans to get used to the new member. He fit in like a glove. Deep Purple came to India in 1995, and proceed to rock the brains of the New Delhi and Mumbai fans (you lucky fuckers - I live way down south and didn't get a chance to see them). During those two shows, Steve also managed to win over the naysayers among Indian rock fans, who didn't think that Purple would be a great band without Blackmore. Those same dunces would soon be grooving and nodding their heads to Morse's guitaring. Meanwhile, on the solo front, 1995 also saw the release of 'Structural Damage'. With some really great melodies on songs like the fantastic album opener "Sacred Ground" (just listen to Steve play his heart out on this one, along with bassist Dave La Rue and drummer Van Romaine), "Good To Go", the ultra cool, southern fried, country, bluegrass & rock mixed "Smoky Mountain Drive" & "Rally Cry", this is a real guitar classic and I would recomend this album to all music lovers. Steve, Ian Gillan, Ian Paice, Roger Glover & Jon Lord went to the studio to record the 1996's Deep Purple album "Purpendicular". Call it a comeback album if u wish, cause the band had becaome to sound tired and out of ideas and even bored with themselves in recent recording, but this record was exciting, fresh and rocking!!! |
In all honesty, I must say that I was never a big Deep Purple fan, I mean like most rock fans I liked their classics like "Smoke On the Water", "Burn", "Child In Time" etc, etc., but I didn't have many albums of theirs - just a live recording and a best of complilation. I had begun to lose intrest in the, and I really bought "Perpendicular" because of my interest in Morse. But what an album "Purpendicular" turned out to be. The other members were rejuvenated by having a new guitarist, who in the band member's words, was a nice guy, a great guitarist and human being. They said that the burden on their shoulders was lifted with Blackmore gone, and everyone agreed that the band sounded like having a blast just jamming! Anyway the album has great songs like "Ted the Mechanic", "Loosen My Strings", first single "Sometimes I Feel Like Screaming" ( with emotional soloing by Mr. Morse), "Rosie's Cantina" and the very non-Purple sounding surprise "The Aviator". Music critics started calling the new Purple lineup more Preogressive Rock and in truth they sound like a new band altogether. And although I have never seen them live myself, I did see some live performances on tape - "Smoke on The Water" in particlular, with Morse first playing some classic riffs of other bands (Led Zepplin's "Whole Lotta Love", The Kinks' "You Really Got Me" & The Beattles "Day Tripper") before going into the song. He makes the songs his own, without straying away from the tune. Deep Purple also put out 'Live at Olympia' and 'Abandon' in recnt years, these albums proving that Deep Purple aren't a spent force and that they have plenty to offer our world. Steve did not forget his solo carreer and out out 'Stress Fest' in 1996 and 'Major Impacts' in 2000, the latter a tribute to his influences and music idols.
| | |
| --- | --- |
| Despite all this media attention consdering his status as the new guitar slinger for Deep Purple and his solo carreer, Steve never forgot his roots. His roots being the Dixie Dregs, formed with like minded musician friends way back in 1975. The Dixie Dregs had reunited in 1994 with new members Jordan Rudess on keyboards and bass player Dava LaRue to create the album 'Full Circle'. They also put out the live "California Screamin'" and continue to perform on tour. Steve would tell you that he is happiest now, being busy with Deep Purple, his solo carreer and The Dixie Dregs. He has even found time to contribute to numerous other projects outside of these three main concerns and also to variuos tribute and guitar oriented albums. even in these bleak time with BoyBands, Girls Bands and dumb dance music numbbing our brains and reducing them to slimmy decay, we still have guys like Steve, in it for the music, never compromising and getting better at his playing with each album, incredible as it may sound. The day I buy a Boy Band album, is the day one of those imbeciles in a Boy Band learns to play the guitar half as good as Steve Morse! | |
---
All pics taken from Steve Morse's official website SteveMorse.com. Biography compiled from various articles, interviews and discographies on the internet and from magazines.