CRASH TEST DUMMIES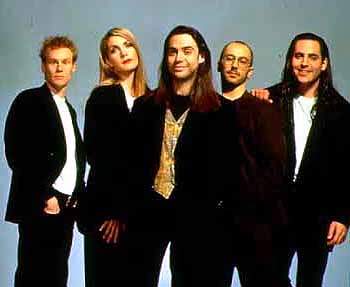 The Crash Test Dummies play songs with lyrics that make the listener think about it's meaning, instead of just "ooh baby, you are so sexy" kind of songs. They write songs about life's little mysteries, delivered with pocker-faced wit as demonstrated by their four albums to date.
| | |
| --- | --- |
| BRAD ROBERTS | CTD came together in Winnipeg (Manitoba, Canada), a city known for being the place where rock legend Neil Young grew up. Brad Roberts, the Dummies' chief song writer and singer, started the band for fun while he was at the Unniversity of Winnipeg. Brad, an honours graduate of the University Of Winnipeg, a scholarship winner holding double B.A. degrees in English Literature and Philosophy, was born in 1964 and started taking guitar lessons at a local music store. Benjamin Darvil (mandolin, guitars), had played in several local bands, before hooking up with Brad. Ellen Reid (keyboards, vocals) also a student at the Unniversity of Winnipeg, was told by a friend that Brad was looking for a singer cum musician. Drummer Michel Dorge was raised in St.Boniface, a French speaking community of Winnipeg. He was on his way to be a top-ranked squash player in Canada before joining up with CTD. The final member to join up was Brad's brother Dan. By that time, CTD had put together a demo of 5 songs. Dan was in a local rock band, and while he was visiting his parents, he happened to listen to the tape. Soon he was asked to join up the feldging band, and being impressed with what he had heard, Dan left his band to team up with his brother and the others. They worked at day jobs for about 2 years, and played live at Winnipeg's Blue Note Cafe, until they signed a record deal with BMG Canada. In 1991, their debut album 'The Ghosts That Haunt Me' was released, featuring the hit "Superman's Song". |
| | | |
| --- | --- | --- |
| ELLEN REID | The album defied categorisation, as it had folk, country, pop and rock. The video for "Superman's Song" revolved around Superman's funeral (an idea by Ellen). Also included as songs "Here on Earth (I'll Have My Cake)" and a cover of Paul Westerber's "Androgynous". The band went on tour supporting Sting in Canada, before going on their own. The album sold over 300,000 copies in Canada and went gold elsewhere. In 1993 the follow-up album 'God Shuffled His Feet' was released and went on to sell over 5 million copies in the US alone. Hit singles such as "Mmmm,mmmm,mmmm" & "Afternoons & Coffeespoons" were always on Mtv, MuchMusic, VH1 and radio. "Mmmm,mmmm,mmmm" was about the strange world that children lived in, where anything that makes you different is instantly problematic" says Brad. | DAN ROBERTS |
| | |
| --- | --- |
| They also contributed a cover of XTC's "The Ballad Of Peter Pumkinhead" to the soundtrack album of the hit 1994 movie 'Dumb & Dumber'. Also in the movie, a part of "Mmmm, mmmm, mmmm' can be heard. After fullfilling their dreams of touring the world (one of the most memorable experiences of it being playing in front of 40,000 drunk Finns in Helsinki and listening to them hum along to "Mmmm, mmmm, mmmm"), the band took a well deserved rest, during which time both Dan and Brad moved to London, where Brad still lives. Their third album 'A Worm's Life' came out in 1996. Although it went platinum in it's first month itself, it failed to do as well as it's prdecessor. The sound was more somber, with more elctric guitars and moody lyrics. There was some controversy over the video for "He Likes To Feel It" off the album. It revolved around a boy, who gains pleasure by yanking out his teeth and trying different ways to do so. Some channels banned it, while others blurred parts of the screen while the video was being played. | MICHEL DORGE |
| | |
| --- | --- |
| BENJAMIN DARVIL | Over the next 18 months, CTD went on a worldwide tour that included dates for the first time in South America, South Asia and even a few in African countries. The next album was 'Give Yourself A Hand', which features the hit single "Put A Lid On Things". And the band meembers are involved in other things as well. Ellen has released her solo album, while Benjamin Darvil also has a solo project under the name 'Son Of Dave'. He has toured cities in Canada and parts of the US with it. Brad meanwhile also writes poetry, which he hosts on the Crash Test Dummies' official website. |
---
All pics and band information taken from the Crash Test Dummies' official website.